The embed isn't perfect (and the links aren't clickable, it seems), but you can download the ebook yourself right here. So please do! ;}
My latest last-minute, three day project: Becky Blanton's Stay Hungry campaign.
Let's pretend you've read all about Daniel Pink and Johnny Bunko, and skip forward to the good stuff. Do it now? Say "Thanks"? Or Stay Hungry?
This one's a no-brainer. I'll explain why.
You can tell yourself to "do it now", filled with determination, but if you are truly staying hungry for more growth, more challenge, more change, you won't have to convince yourself of anything. It will happen, because it has to.
You can give thanks for everything you have, every day (and I'd recommend you do). I bet the world has already given you much to be grateful for. But if you do not have, first and foremost, a desire to move forward, to create, to experience more… if you are interested only in your current set of understandings and experiences… isn't that a little… ungrateful?
Let the world be abundant. Don't shut it out—stay hungry for more.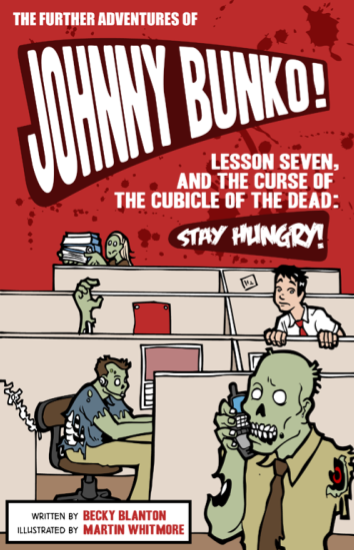 The desire to stay hungry is what makes all other precepts function. A driving hunger is at the root of all growth, all success. It keeps you off the couch and out in the world, discovering, learning. It's what makes us better. Not the hunger you associate with poverty and scarcity—I mean the hunger in wanting something. Wanting something more than ever before, knowing that you'll do whatever it takes to make it come to pass. A dream. A passion. A project. That hunger is essential to your process. You've felt it before. But you need to feel it again.
Again and again and again.
Becky did the crazy thing (the wonderful thing) and actually wrote her idea for Lesson Seven. She even put together a website. At Becky's request Marty went ahead and illustrated her idea, manga. There were mucho project goings-on with enthusiastic assistance from many. And then I packed it all into a PDF, along with stories about all the people Becky has written about—people who are staying hungry, people who are doing something—and here it is, all finished. It's been a hell of a ride. I strongly suggest you read this ebook. (Pretty short—LOADS of fun. And zombies!!)
And if you want to really support us—Becky, who deserves it more than anyone I know, and Marty, who has worked generously and incredibly hard to finish so hugely much in one weekend—you can go to JohnnyBunko.com and vote for Stay Hungry. I'd appreciate it if you would.
Don't settle. Don't stay satisfied for too long. Press forward, make something happen.
And dammit, stay hungry.